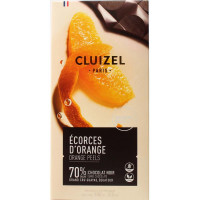 dark chocolate from cocoa beans from Guayas, Ecuador refined with candied orange peel. The chocolate is gluten-free and vegan.
Dunkle Schokolade 63% Black Orange Peel
Bean-to-bar chocolate
€5.90 *
Prices incl. VAT plus shipping costs
contains: 100 g (€59.00 * / 1 kg)
weight: 0.12 kg
Mady by: Michel Cluizel
Prod.-No: 2-1700302
This article is currently sold out or no longer available.
Click on the pictograms for more products with the same property. Take advantage of our Chocolate FINDER !
Accessories
Your Advantages
at Chocolats-De-Luxe.com
Great product selection
No minimum order value
Ready to ship on day of order*
Worldwide shipping by DHL
Recommended by Feinschmecker gourmet magazine
* On working days for goods in stock, for orders and payment received before 12 o'clock
---
Other customers rated Dunkle Schokolade 63% Black Orange Peel
Write the first review and help other customers. Thank you for your support.