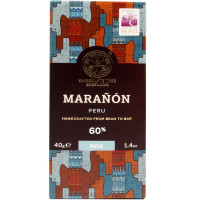 Die Schokolade wird aus den seltenen Nacional Kakaobohnen aus dem Maranon Canyon in Peru hergestellt. Chocolate Tree zahlt den Kakaobauern einen Premium Preis, damit diese seltenen und hoch aromatischen Kakaobohnen...
Peru Maranon Milk 60%
dark milk chocolate
Prices incl. VAT plus shipping costs
contains:

80 g (€9.00 * / 100 g)

weight:

0.1 kg

Mady by: Chocolate Tree
Prod.-No:

105-B2B01
This article is currently sold out or currently not available.
Click on the pictograms for more products with the same property. Take advantage of our Chocolate FINDER !
Other customers rated Peru Maranon Milk 60%
Write the first review and help other customers. Thank you for your support.