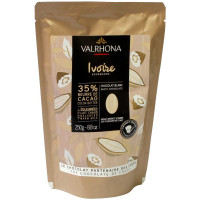 Couverture for cooking and baking
The Ivoire chocolate-Couverture with 35% cocoa content is a white, creamy sweet, but not penetratingly sweet white noble chocolate coating with subtle vanilla notes and aromas of condensed milk. With this...

Edel Weiß 37% BIO Couverture 250 g
Dominican Republic in a bag without vanilla
€9.90 *
Prices incl. VAT plus shipping costs
contains: 250 g (€39.60 * / 1 kg)
weight: 0.45 kg
Mady by: Original Beans
Prod.-No: 59-2120015
This article is currently sold out or no longer available.
Click on the pictograms for more products with the same property. Take advantage of our Chocolate FINDER !
Other customers rated Edel Weiß 37% BIO Couverture 250 g
Write the first review and help other customers. Thank you for your support.