The perfect corporate gift from Chocolats-de-luxe.com
Tailor-made: the right attention for every occasion
An exclusive present for your business partners, customers or your employees. Give culinary moments with special products exclusively packaged. From the small attention up to the big gift - We put together exactly the right gift for you.
Contact us today at +49-511-78094370 and we will work with you to plan your personalized gift for any event. For some occasions, we offer pre-made packages to help you choose, but we also offer custom combinations. From popular chocolate classics, exclusive products for business customers to individual solutions for any occasion, taking into account your corporate identity are part of our services. You can choose not only from exquisite chocolates, but also from high-quality Hot Chocolate, cookies and other delicacies, as well as matching wines and champagnes. Stay in sweet memory.
Shipping is worldwide to single or multiple addresses, whether 10 or 10,000 gifts. Everything according to your wishes and budget ideas.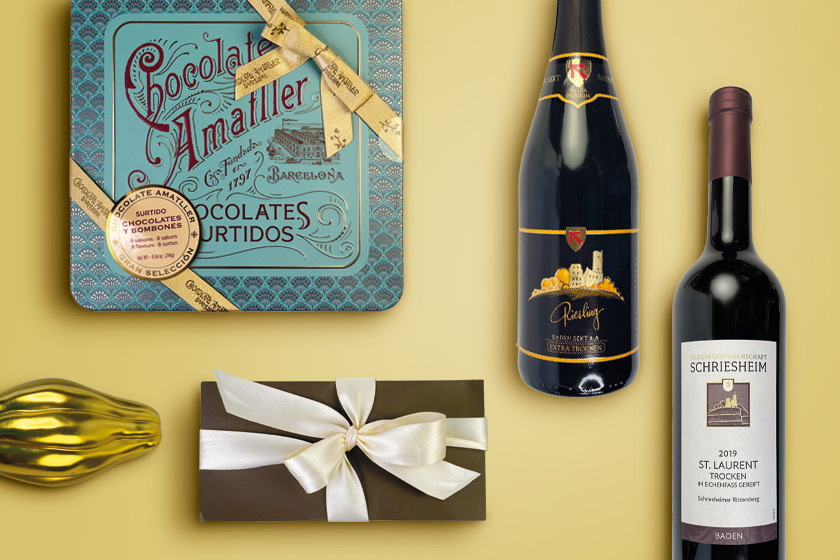 Exclusive gifts
Give the right moments
Gift giving is all about how you make people feel. Chocolats-de-luxe.com helps you send gifts that always feel right and get the best results.
Looking for a nice gift to simply say "thank you" for your years of service? We will be happy to advise you for an individually composed and high-quality packaged gift.
We offer a wide range of high-quality and seasonal specialties for every occasion. We are happy to personalize your gifts and take care of shipping all over the world.
Give us a call, we look forward to meeting you!
Adventskalender
Wir haben viele Adventskalender für Sie zur Auswahl: befüllt mit den beliebten Tartufi und anderem Sweet Fingerfood wie Giandujotti, Doubledone, Cremini, gefüllten Feigen mit oder ohne Alkohol, ganz wie Sie wünschen.
Suchen Sie sich einen Kalender aus oder lassen Sie Ihren individuellen Kalender gestalten: besprechen Sie mit uns Ihre Wünsche. Selbstverständlich verschicken wir Ihre Adventskalender auch an Ihre Kunden, Mitarbeiter oder Lieben.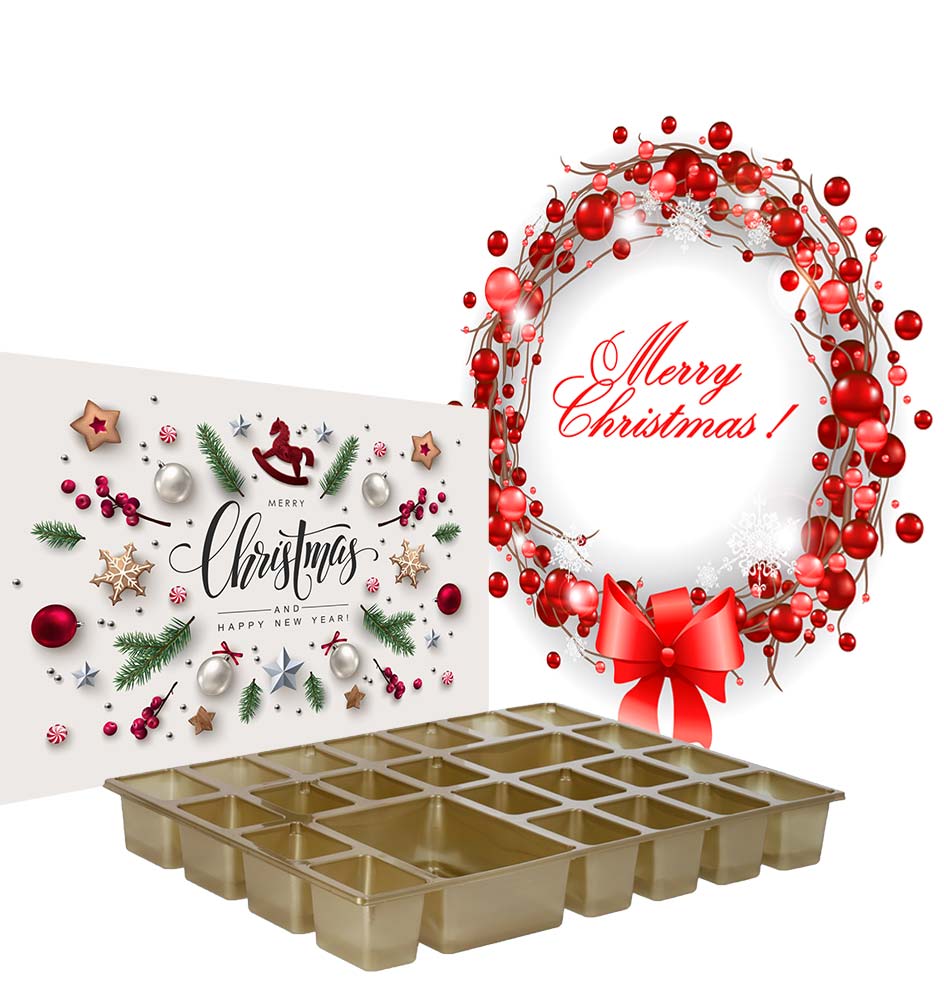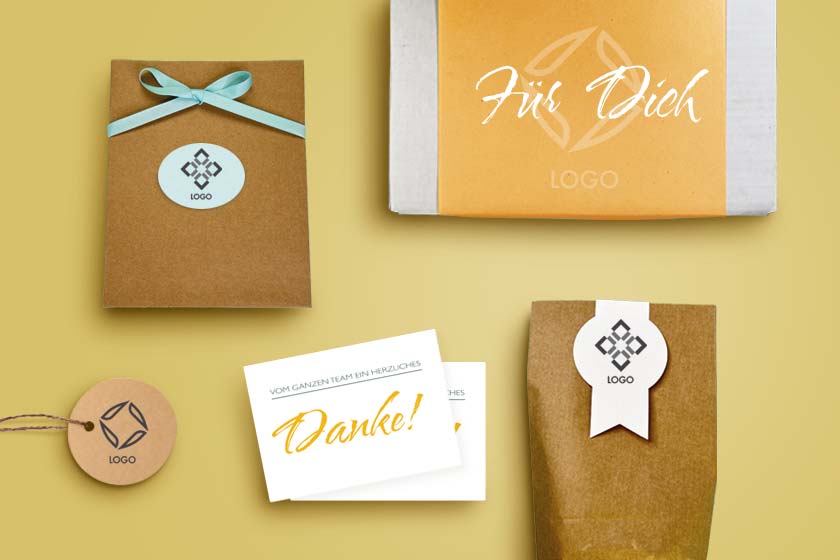 Personalization
We think: every gift should always be accompanied by a personal greeting. Therefore, it is a matter of course for us that we send all gifts with personalized greeting cards upon request. Integrating your own branding is also no problem.
Thanks to our wide range of customization options, we can offer the right design for every occasion. We will gladly take care of the entire conception and corresponding product selection, the packaging and, if desired, also the shipping. Our individualizations are already possible from a small number of items.
High-quality gift boxes or affectionate attentions, contact us with pleasure!
Online events
and virtual Conferences
You have planned an international meeting or conference? We would be happy to take over the entertainment program with an online tasting. We send the box in time with all the chocolates and information to your participants and you are ready to go. No matter what technology you are working with, we are used to dealing with it.
By the way: in addition to German, we also speak English and French.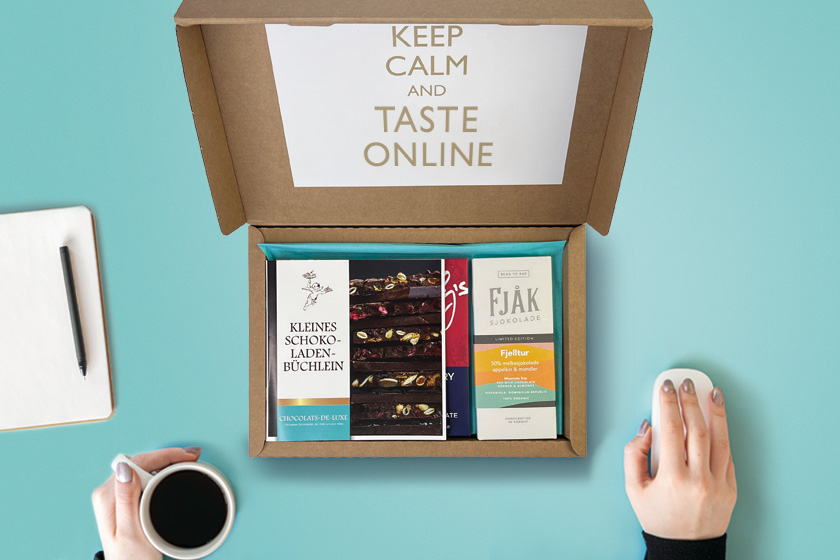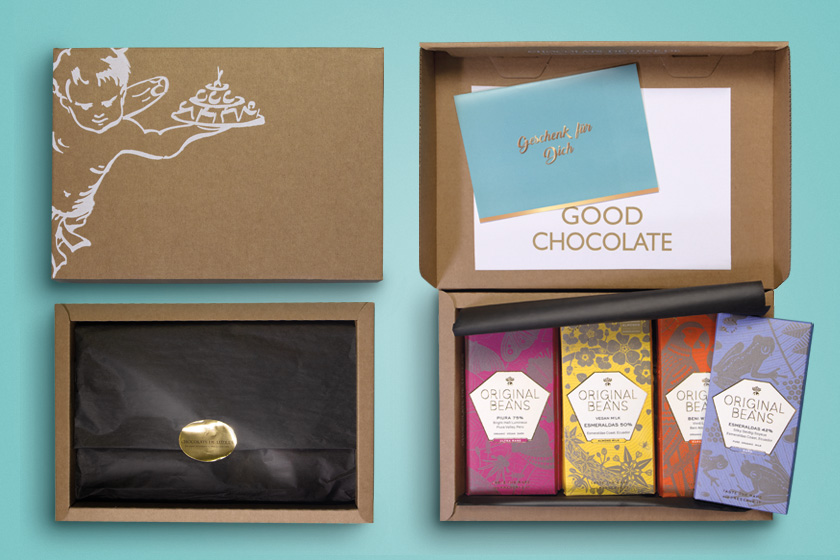 Boxes & Subscriptions
The choice of boxes is as big as your imagination. We have gifts for every occasion, starting with gifts for birthday, anniversary, onboarding, farewell or thank you also home office packages, or ideas for motivation and much more. Just contact us.
Do you already know our chocolate subscription? We send a monthly chocolate package to the recipient, as long as you want already from 3 months.
Worldwide shipping
We can ship toover 160 countries, with premium shipping or express. We work with almost all parcel shippers such as DPD, DHL, UPS or DHL Express and take over the shipping of your ordered gifts both domestically and abroad.
On-time shipping to home and abroad, as well as personalized greeting cards are no longer a problem. Contact us !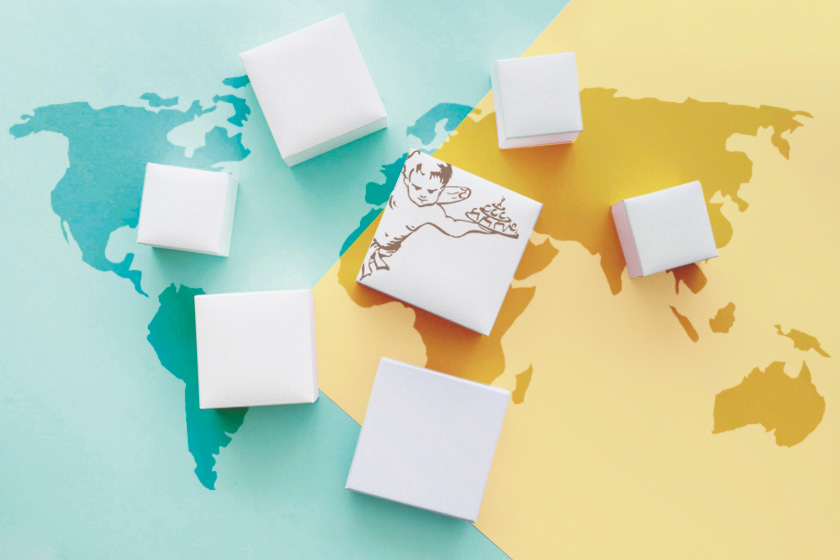 Erste Geschenkideen
Nach Budget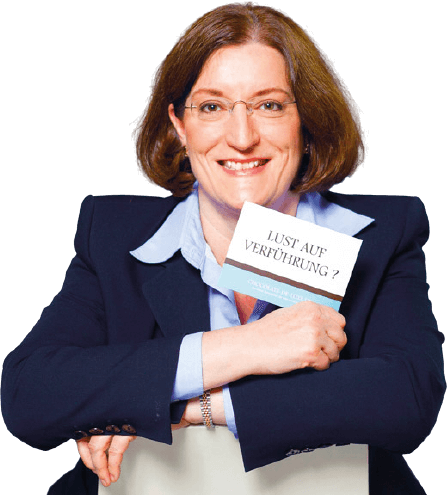 Sie finden bei uns besondere Ideen für Geschenke und genussvolle Sets, um Ihren Mitarbeitern und Kunden eine besondere Freude zu machen.
✔ Individuelle Adventskalender mit richtig leckerem Sweet Fingerfood
✔ Leckere Präsente für Kollegen und Geschäftspartner
✔ Online-Tastings mit Schokolade pur (oder mit Wein oder Whisky)
✔ Versand an unterschiedliche Adressen im In- und Ausland
✔ Individuelle Grußkarten & Geschenkkartons
Haben Sie sonst weitere Fragen zu unserem Firmen-Service, finden Sie nicht das passende Präsent oder haben Sie eine hohe Stückzahl? Gerne berät Sie Frau Schupp persönlich, sodass der Ablauf unkompliziert und mit geringem Zeitaufwand für Sie ist.
Wir finden gemeinsam das passende Geschenke zu einem tollen Angebot.
Ihre Michaela Schupp
Tel: 0511 - 78 09 43 70
Bauen Sie tiefere Verbindungen zu Ihren Interessenten, Kunden und Mitarbeitern auf. Sorgen Sie für wichtige Momente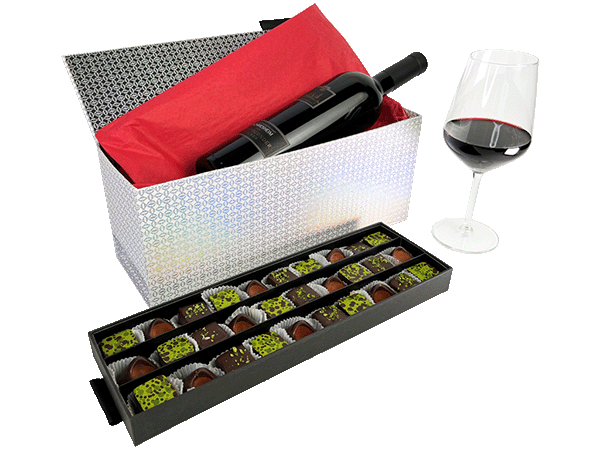 Exklusive Präsente
Eine schöne Aufmerksamkeit, um einen erfolgreichen Vertragsabschluss zu zelebrieren oder möchten einfach mal "Danke" für die langjährige Zusammenarbeit sagen? Wir beraten Sie gerne für ein individuell zusammengestelltes und hochwertig verpacktes Präsent.
Online Event Boxen
Es ist ein längeres Online Meeting oder eine digitale Pressekonferenz aufgesetzt und Sie möchten Ihre Gäste bewirten? Bei uns können Sie Snackboxen in verschiedenen Größen für genau solche Anlässe bestellen. Wir helfen Ihnen gerne bei der Produktauswahl sowie beim nationalen und internationalen Versand.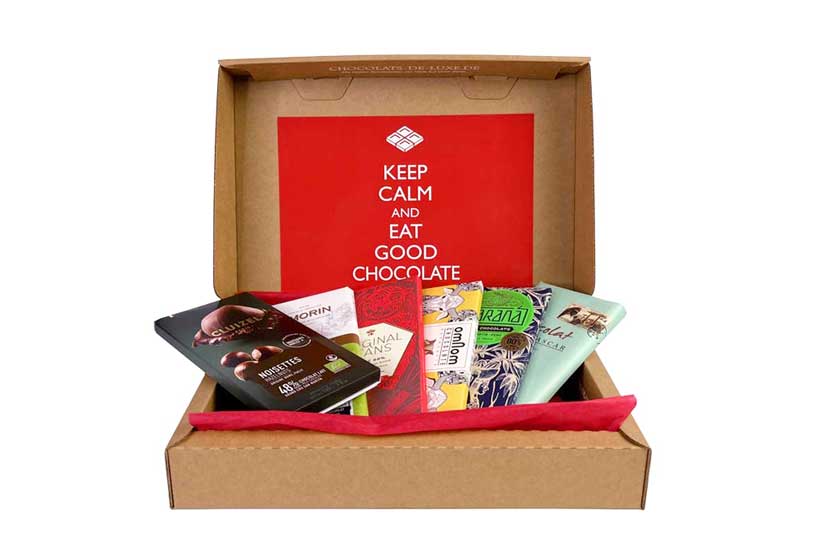 Klappkärtchen
mit Mini-Schokoladentafel
in Ihrem individuellen Design mit einem Napolitain Ihrer Wahl aufgeklebt
ab 250 Stück
Personalisierte Geschenke
Wir finden: zu jedem Präsent gehört auch immer ein persönlicher Gruß. Daher ist es für uns selbstverständlich, dass wir auf Wunsch alle Präsente mit personalisierten Grußkarten versenden.
Auch Ihr eigenes Branding zu integrieren ist kein Problem.
Sprechen Sie uns gerne an!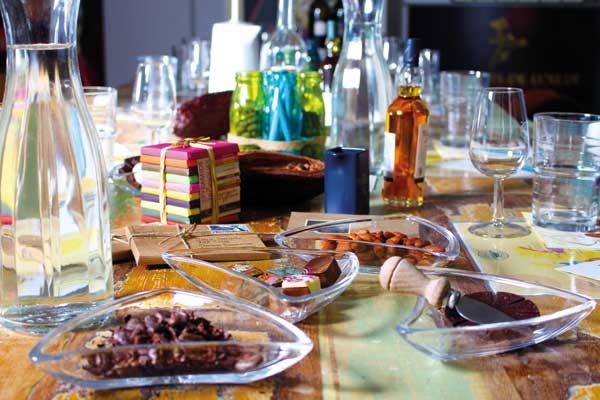 Schokoladen Tastings
mit Wein, Whisky, Rum oder Schokolade pur
Wein & Schokolade sind die beiden ältesten Genussmittel der Welt. Doch passen diese beiden Dauerbrenner der Genusswelt zusammen? Dass die richtige Kombination aus gutem Wein und echter Schokolade, jenseits industrieller Massenproduktion, ein echtes Geschmackserlebnis sein kann, wird Ihnen unser Expertenabend Wein & Schokolade näherbringen.
Wenn man es richtig macht, ist das Schenken ein wirkungsvolles Mittel, um sinnvolle Beziehungen aufzubauen. Wir glauben an Geschenke, ohne dafür eine Gegenleistung zu verlangen.
Timing ist alles. Verpassen Sie nie die richtige Gelegenheit, mit Ihrer Zielgruppe in Kontakt zu treten und den besten Zeitpunkt für eine Nachfassaktion. Nutzen Sie Chocolats-de-luxe.de, um den Versand von Geschenken aus Ihren Marketing-, Vertriebs- und Mitarbeiterverwaltungssystemen automatisch auszulösen und für alle Ihre Direktmailings und Geschenke sicherzustellen.
Edle Geschenkbox oder elegante Geschenktüte?
Veredeln Sie Ihre Geschenke mit festlichen Kissenhüllen, Conciergetaschen, Geschenkboxen oder schicken Flaschentaschen.
Oder überreichen Sie sie mit etwas, das wir für Sie individuell fertiggestellt haben, sei es mit Schleifenband oder in einer schönen Box.
- Fügen Sie Ihrem individuellen Geschenk eine kostenlose Nachricht hinzu
- Vereinbaren Sie einen Versandtermin, der nah am großen Tag liegt.
Firmengeschenke für viele Empfänger
Von leckeren Schreibtischgeschenken über Launch- und Weihnachtskalender, Onboading Präsenten bis hin zu Firmenerlebnissen haben wir alles, was Sie brauchen, um Ihren Kunden und Kollegen in diesem Jahr Freude zu bereiten. Präsentieren Sie Ihre Geschenke in einer individuellen Geschenktüte oder in einer schicken Geschenkbox und wir liefern wunschgemäß an Sie oder direkt an die Empfänger: egal, ob Sie 10 oder 10.000 Geschenke verschicken möchten.
Sie können Ihre Bestellung online auch aufgeben. Sie möchten ein Geschenk an mehr als einen Empfänger verschicken? Wir sind vorbereitet und haben das Richtige für Sie! Rufen Sie uns an unter 0511 - 78 09 43 70 oder senden Sie uns eine Anfrage über unser Online-Formular.
Erledigen Sie Ihre Werbegeschenke per Telefon
Wenn Sie eine große Bestellung haben und lieber mit uns sprechen möchten, dann rufen Sie uns unter 0511 - 78 09 43 70 an. Geben Sie uns ein Budget oder Ihre Vorstellung was Sie verschenken möchten, wir erledigen die Ausarbeitung der Einzelheiten: schnell & kompetent.
An wen sollten Sie Werbegeschenke schicken?
Es war wieder ein besonderes und manchmal schwieriges Jahr, mit Herausforderungen sowohl bei der Arbeit von zu Hause aus als auch im Büro. Schenken Sie Ihren Mitarbeitern ein Lächeln mit unseren leckeren Geschenken! Oder senden Sie ein Zeichen der Wertschätzung an treue Kunden oder Lieferanten, die mit Ihnen in diesem schwierigen Jahr zusammengearbeitet haben. Wohin und an wen Sie Ihre Firmengeschenke in diesem Jahr auch immer schicken, mit Chocolats-de-luxe.de können Sie sicher sein, dass Sie ein kleines Stückchen Genuss und natürlich Glück verschenken - wer könnte dazu schon nein sagen?
Chocolats-de-luxe.de IHRE VORTEILE
✔ Persönliche Beratung & Betreuung
✔ Einzelversand an individuelle Adressen möglich
✔ Edle Geschenke & stilvolle Verpackungen
✔ Individualisierung mit Ihrem Logo
✔ Individuelle, persönliche Grußkarten zu jedem Geschenk
✔ Schnelle Abwicklung
✔ Zahlung auf Rechnung
✔ Preisvorteil ab 300 € Auftragswert netto
Die besten Firmengeschenke
Unsere Empfehlungen