Dolfin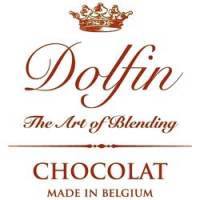 Der belgische Chocolatier Dolfin produziert aromatisierte Schokolade auf höchstem Niveau – und das schon seit 1989. Hierfür verwendet Dolfin ausgewählte, natürliche Zutaten, die der Schokoladenmasse beigemengt werden. Die feinen, exotischen Gewürze, aber auch Obst, Nüsse und sogar Teeblätter veredeln zartschmelzende Milch- und Zartbitterschokoladen. Die außergewöhnlichen Kompositionen bieten abwechslungsreiche Geschmacksmomente und laden Sie auf eine kulinarische Reise ein. In unserem Onlineshop auf Chocolats-de-luxe.de bieten wir Ihnen eine große Auswahl an Schokoladenspezialitäten von Dolfin an, natürlich führen wir auch die preisgekrönte Trinkschokolade Copeaux de Chocolat mit 77 Prozent Kakaoanteil. Sollten Sie Ihre Lieblingsschokolade von Dolfin noch nicht entdeckt haben, dann sind die bunt gemischten 48 Minitäfelchen Panaché genau das Richtige für Sie zum Ausprobieren. Entdecken Sie jetzt hier den Chocolatier Dolfin und gehen Sie auf eine vielseitige Geschmacksreise!
Dolfin Schokolade: The Art of Blending
Dolfin hat die Kunst der Vermengung (Blending) gemeistert und kombiniert feinste Gewürze, Fruchtschalen und Duftstoffe mit der Kakaomasse zu schokoladenen Meisterwerken. Die kreative Energie, aber auch der Spürsinn für wohlschmeckende Zusammenstellungen führt zu einzigartigen, intensiven Geschmacksmomenten. Dolfin Schokolade ist von ausgezeichneter Qualität und verführt Feinschmecker jedes Mal, erfreuen auch Sie Ihren Gaumen mit den modernen Interpretationen unserer liebsten Süßigkeit. Die köstlichen Schokoladen werden in einem besonderen Gewand in Form einer designten Tabakverpackung geliefert. Dadurch bleibt das Aroma vollständig erhalten und kann durch ein einfaches Wiederverschließen überall hin mitgenommen werden. Auf Chocolats-de-luxe.de erwartet Sie die allseits beliebte Chocolat Noir Poivre Rose 60 %, eine Zartbitterschokolade mit rosa Pfeffer, sowie weitere erlesene Schokoladen beispielsweise mit Ingwer oder Earl Grey Tea. Eines ist aber sicher – mit Dolfin Schokolade kommt bestimmt keine Langeweile auf!