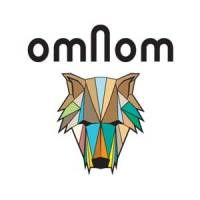 Kjartan Gíslason, a trained chef who had worked for the well-known Dill restaurant in Reykjavík, opened the omnom chocolate factory in 2013 with his old school friend Óskar Þórðarson in an old gas station! In Icelandic it means: Its fun and delicious = omNom. In 2017 they were bursting at the seams and moved to the hip Grandi region near the Reykjavik port area.

Both of them value the highest quality and only work with selected raw products:
Cocoa beans from Nicaragua of the Ingemann variety O'Payo ™ is now a registered trademark. The fruity cocoa beans from Madagascar come from Bertil Akesson's Ambanja plantation. Organic cocoa beans come from Tanzania from Kakao Kamili in the Kilombero Valley, which are processed under controlled fermentation and drying.
The raw cane sugar from Brazil comes from the Native Green Cane Project , under which deforestation is reversed, in which new plants are reforested. In addition, biodiversity has been promoted since 1986.
Chocolate made with ingredients from Iceland
The milk for the milk powder comes from local cows and is produced under CO²-free conditions. The cows themselves are kept under controlled animal welfare conditions. Most industrial manufacturers use powdered milk and sugar to mask undesirable flavors. With the milk powder, OmNom tries to highlight certain flavors that are naturally contained in cocoa, coffee beans or liquorice.
Saltverk is a sustainable salt works in Iceland , which was founded by the entrepreneur friend Björn Jónsson. He even gave up his engineering career to harvest salt in this deserted area. He restarted a 240 year old process to make flaky sea salt.
There are no artificial additives in omnom's bean-to-bar chocolate . Everything is made by hand and around 2,000 bars are produced a day. Each batch is less than 200 kg. In comparison, large-scale industry produces 2,000 bars an hour with batches of more than 20 tons.
When in Iceland, plan a factory tour. Alternatively, there is a small tour on Instagram here.
All bars are single bean chocolates and have won one or more prizes. You have to try the chocolate from Iceland! Omnomnomnomnomnomnom ... ;-)
Bean-to-Bar Schokolade
In der Bean-to-Bar Schokolade von omnom befinden sich keine künstlichen Zusätze. Alles wird von von der Bohne bis zur fertigen Tafel selbst hergestellt. Durch die eigene Verarbeitung von Kakaobohnen kann bei der Geschmack bei der Herstellung der Schokolade selbst und besser herausgearbeitet werden. Das Rösten der Kakaobohnen, die Röstzeit und Rösttemperatur spielt dabei eine große Rolle. Handgemacht und ca. 2.000 Tafeln am Tag produziert. Jede Charge / Batch ist weniger als 200 kg groß. Die Großindustrie fertigt im Vergleich 2.000 Tafeln in der Stunde mit Chargen von mehr als 20 Tonnen.
Die beiden legen Wert auf höchste Qualität und arbeiten nur mit ausgewählten Rohprodukten:
Kakaobohnen
Kakaobohnen aus Nicaragua von der Ingemann Sorte O'Payo™ ist inzwischen eine eingetragene Marke. Von der Plantage Ambanja von Bertil Akesson kommen die fruchtigen Kakaobohnen aus Madagascar. Aus Tanzania von Kakao Kamili im Kilombero Valley kommen Bio Kakaobohnen, die unter kontrollierter Fermentation und Trocknung verarbeitet werden.
Der Rohrohrzucker aus Brasilien kommt aus dem Native Green Cane Project, unter dem die Abholzung umgekehrt wird, im dem neue Pflanzen aufgeforstet werden. Darüber hinaus wird die Biodiversität seit 1986 gefördert.
Schokolade mit Zutaten aus Island
Die Milch für das Milchpulver kommt von einheimmischen Kühen und wird unter CO²-freien Bedingungen hergestellt. Die Kühe selbst werden unter kontrollierten Tierschutzbedingungen gehalten. Die meisten industriellen Hersteller benützen Milchpulver und Zucker, um ungewünschte Aromen zu maskieren. Omnom versucht mit dem Milchpulver bestimmte Geschmacksrichtungen, die von Natur aus schon im Kakao, den Kaffeebohnen oder im Lakritz enthalten sind, hervorzuheben.
Saltverk ist ein nachhaltig arbeitendes Salzwerk auf Island, das von dem befreundeten Unternehmer Björn Jónsson ins Leben gerufen wurde. Er hat sogar seine Karriere als Ingenieur aufgegeben, um in dieser verlassenen Gegend Salz zu ernten. Er brachte einen 240 Jahre alten Prozess wieder in Gang, um flockiges Meersalz zu gewinnen.
Wenn Sie auf Island sind, planen Sie eine Fabrikführung ein. Alternativ gibt es hier eine kleine Tour auf Instagram.
Alle Tafeln sind Single Bean Schokoladen und haben einen oder mehrere Preise gewonnen. Die Schokolade aus Island müssen Sie unbedingt probieren! Omnomnomnomnomnomnom...;-)