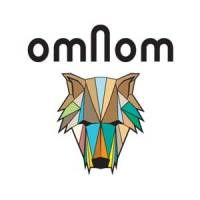 Kjartan Gíslason, a trained chef who had worked for the well-known Dill restaurant in Reykjavík, opened the omnom chocolate factory in 2013 with his old school friend Óskar Þórðarson in an old gas station! In Icelandic it means: Its fun and delicious = omNom. In 2017 they were bursting at the seams and moved to the hip Grandi region near the Reykjavik port area.

Both of them value the highest quality and only work with selected raw products:
Cocoa beans from Nicaragua of the Ingemann variety O'Payo ™ is now a registered trademark. The fruity cocoa beans from Madagascar come from Bertil Akesson's Ambanja plantation. Organic cocoa beans come from Tanzania from Kakao Kamili in the Kilombero Valley, which are processed under controlled fermentation and drying.
The raw cane sugar from Brazil comes from the Native Green Cane Project , under which deforestation is reversed, in which new plants are reforested. In addition, biodiversity has been promoted since 1986.
Chocolate made with ingredients from Iceland
The milk for the milk powder comes from local cows and is produced under CO²-free conditions. The cows themselves are kept under controlled animal welfare conditions. Most industrial manufacturers use powdered milk and sugar to mask undesirable flavors. With the milk powder, OmNom tries to highlight certain flavors that are naturally contained in cocoa, coffee beans or liquorice.
Saltverk is a sustainable salt works in Iceland , which was founded by the entrepreneur friend Björn Jónsson. He even gave up his engineering career to harvest salt in this deserted area. He restarted a 240 year old process to make flaky sea salt.
There are no artificial additives in omnom's bean-to-bar chocolate . Everything is made by hand and around 2,000 bars are produced a day. Each batch is less than 200 kg. In comparison, large-scale industry produces 2,000 bars an hour with batches of more than 20 tons.
When in Iceland, plan a factory tour. Alternatively, there is a small tour on Instagram here.
All bars are single bean chocolates and have won one or more prizes. You have to try the chocolate from Iceland! Omnomnomnomnomnomnom ... ;-)