Venchi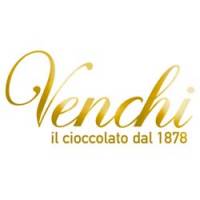 Venchi Schokolade is a company with a long tradition: As early as 1878 a rather young man named Silvano Venchi founded his pastry shop in Turin at the age of 20. Since then, of course, a lot has happened: in 2000, Venchi Schokolade teamed up with Pietro Cussion, who has been making fine biscuits under the company name CUBA since 1949. Initially operating under the name CUBA Venchi, the company was renamed Venchi in 2003 and can now boast a product range of over 350 articles . The chocolate products are often quite extraordinary: How about a cigar made of chocolate , for example, that actually looks deceptively real? Here we offer you various designs, for example with a filling of chocolate cream with cocoa from New Guinea and pieces of hazelnut. The cigar is wrapped in a double layer of light and dark chocolate.
Chocolate caviar from Venchi Schokolade here in the shop
Or have you ever heard of Chocolate Caviar ? The caviar from Venchi Schokolade of course has absolutely nothing to do with fish roe. It consists of different layers of chocolate, which are then cut into small pieces and then coated with 75 percent couverture. Because the sweet caviar is packaged in a suitable glass, the product looks very natural and is perfect as a surprising, yet delicious gift . This of course also applies to cigars: Do you have a new non-smoker in your circle of friends who would be happy about this little reminiscence? Then grab it! Incidentally, all Venchi products are gluten-free.
Schokokaviar von Venchi Schokolade hier im Shop
Oder haben Sie schon einmal etwas von Schokoladenkaviar gehört? Der Kaviar von Venchi Schokolade hat aber natürlich mit Fischrogen rein gar nichts zu tun. Er besteht aus verschiedenen Schichten an Schokolade, die dann in kleine Stückchen geschnitten und anschließend mit 75-prozentiger Kuvertüre überzogen werden. Dadurch, dass der süße Kaviar in einem entsprechenden Glas verpackt wird, sieht das Produkt wirklich sehr naturgetreu aus und eignet sich perfekt als überraschendes, aber dennoch köstliches Gastgeschenk. Das gilt natürlich auch für die Zigarren: Haben Sie vielleicht einen neuen Nichtraucher im Freundeskreis, der sich über diese kleine Reminiszenz freuen würde? Dann greifen Sie zu! Alle Produkte von Venchi sind übrigens glutenfrei.