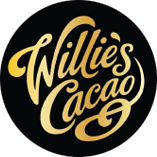 Die Leidenschaft für Schokolade hat Willie Harcourt-Cooze durch seine Abenteuerlust entdeckt. Seine Reisen führten Ihn unter anderem nach Venezuela, wo die Hacienda El Tesoro 1995 mitten im Regenwald gerade zum Verkauf stand. In der Gegend rund um den Äquator fand er die besten Kakaobohnen für seine Schokolade. Von den Kakaobauern hat er gelernt wie man Schokolade macht. Sie zeigten ihm, wie Kakao geerntet, fermentiert und getrocknet wird. Dann wie die Kakaobohnen in einer Pfanne auf dem Herd geröstet werden, die Schale entfernt wird und die Bohnen schließlich zermahlen und zu Kakaopaste werden. Diese Kakaopaste zu probieren, mit all ihren vielschichtigen Aromen, war eine Offenbarung für Willie. Als er diese Masse dann mit Wasser und Honig zu heißer Schokolade verrührte, war er endgültig von Kakao infiziert. Er wollte unbedingt mehr wissen über diese Pflanze, seine Herkunft und seine Geschichte.
Feiner Kakao hat bis zu 400 verschiedene Aromen.
Auf seinen Reisen entdeckte er immer mehr davon und begann mit Schokolade zu kochen, mit anderen Früchten zu kombinieren und zu experimentieren. Bei Willies Schokolade zählt der Geschmack. Beim Kakao ist es wie beim Wein, der Geschmack ist erstaunlich individuell in seiner Genetik, durch Boden und Klima beeinflusst. Die Geschmacksrichtungen bewegen sich zwischen Gewürzen, Nüssen und Sommerfrüchten. Willie kaufte einzelne Anwesen mit Kakaoplantagen direkt von den Bauern und machte von da an seine eigene Schokolade - nur mit Roh-Rohrzucker und natürlicher Kakaobutter, ganz ohne Sojalecithin, Vanille oder anderem, das den Geschmack der Bohne beeinflussen könnte.
Willie's Cacao ist eine Bean-to-Bar Schokolade, die in England hergestellt wird.Willie's Schokolade gehört zu den besten Schokoladen der Welt. Beliebt sind seine 100% Kuvertüren und seine Milchschokolade Milk of the Gods mit 44% Kakaogehalt. Die Kakaobohnen für Willie's Cacao Schokolade kommen aus Venezuela, Peru, Kolumbien, Cuba, Madagascar und Indonesien. Willie Hartcourt-Cooze verarbeitet nur hochwertige, von Hand verlesene Kakaobohnen. Es sind die Kakaosorten Criollo, Trinitario und Forastero aus denen die Schokolade gemacht wird.