Pump Street Chocolate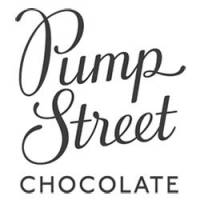 Pump Street Bakery was founded in November 2010 by father Chris and daughter Joanna Brennan . Chris is a passionate baker and Joanna is addicted to everything that tastes good. The Pump Bakery consists of a bakery, a shop and a café in the small village Orford in Suffolk on the east coast of England . Home-baked bread, cakes, pastries and other delicacies will be served there. The company was named after the street name Pump Street. The 15th century building stood empty for 20 years before it was lovingly renovated and painted pink.
The team at Pump Street is passionate about quality. After familiarizing themselves with all the secrets of baking, they wanted a new challenge: Chocolate . Tried and tested for two years. Today, Pump Street Chocolate is one of the best bean-to-bar chocolate manufacturers in the world. It has already won so many awards that there is not enough space here to list them all. The employees only process the very best quality cocoa beans. They only get the cocoa beans from small plantations that are run by the owners or cooperatives themselves. They attach particular importance to the fertility of the soil on which the cocoa grows.
Five single origin farms are the sources of supply for cocoa:
Hacienda Limon, Guantupi, Los Rios Province, Ecuador
Ambanja, Sambirano Valley, Madagascar
Crayfish Bay Organic Estate, Saint Mark, Grenada
Finca Tres Marias, Santa Babara, Honduras
Bachelor's Hall Estate, Saint Thomas, Jamaica
The soil, cocoa variety, growth, harvest, fermentation and drying of the cocoa beans all influence the fine flavors of chocolate . And that even before the cocoa beans arrive and chocolate is made from them.
Some of the award-winning chocolates are presented here in our online shop at chocolats-de-luxe.de . The specialty are the chocolates with bread: Sourdough (sourdough) and Sea Salt (sea salt) and Rye Crumb (rye crumbs), Milk and Sea Salt.
The chocolate is packed in resealable brown bags that are color coded. The color shows the origin of the cocoa beans.